Frequently Asked Questions
Did we miss your question? Feel free to contact Customer Service, and we'll help you as quickly as we can!
---
COVID-19
---
You can learn about our precautions regarding COVID-19 here.
---
Product Questions
---
Do you make your rugs in custom sizes? Unfortunately, we don't. It takes a long time to prepare a warp for weaving each width, and our weavers insist on making a minimum of 10 rugs with each warp. If you have a large project requiring many of the same rug, please let us know.
---
Do your rugs vary slightly in size? Yes. We weave them all by hand and it is impossible to make the sizes exact when they come off the loom. Please expect variation up to 2% in width and 4% in length.
---
Where can the flatweave rugs be washed? At home, at a Laundromat, or at a commercial laundry, depending on rug size and the size of your home washer. We are gathering data on cubic foot capacity needed for each rug/size. Please email care@hookandloom.com with your machine capacity in cubic feet and whether it is a front loader or top loader (with center agitator?) for assistance.
---
Do you offer samples or swatches? Yes. We offer them at subsidized pricing. They are for one-time use and are not returnable.
How To Order Swatches
On the page of the rug you want to order, scroll below the sizes and click the "Swatch" tab.
At the bottom of this tab, click the "Get Swatch" button to add it to your cart.
---
Do you use chemicals in any of your rugs? No! We pride ourselves on not using any chemicals in our production. We use no repellents, no fire retardants, or other chemicals of any kind.
---
Do your rugs get sprayed with chemicals when they are shipped from India? No! This misconception comes from laws concerning wood products. Any container that contains any wood products must be sprayed. We only import full containers of rugs, and never with any wood products. Our rugs are never sprayed.
---
Do you use any latex or plastic/rubber backing on your rugs? We do not. Off-gassing can be unpleasant, and we avoid these substances. These adulterants can degrade over time, and we want our rugs to last. Finally, we feel they're just not good for the environment, and run counter to our mission.
---
How do I clean my rug? Please refer to the Care Instructions tab on the sizes and prices page for the rug you like for detailed information about rug care.
---
Shipping Questions
---
We offer free Ground shipping

on all rugs to the 48 contiguous states.
Hook & Loom FedEx Shipment Times
Rug orders placed today will ship: Dec 8
All swatch orders ship by noon the following day.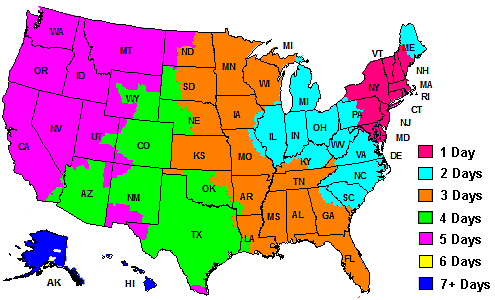 Domestic Shipping
All rugs are shipped FedEx Ground, except flatweave eco cotton 2×3's, 3×5's, 4×6's, and runners, which ship via the US Postal Service, and 9×12, 10×14 and 12×16 Loom Hooked rugs, which ship UPS Freight. We ship swatches free via the USPS. As they are for temporary use only, they are not returnable.
International Shipping
We do not currently ship internationally. If you really like our products and don't mind paying the rather high shipping costs, please send us your address and the items you would want and we will get a shipping quote for you.
Alaska and Hawaii
For orders to Alaska and Hawaii, please feel free to place them on line and we will contact you for approval on shipping cost. If you do not approve the cost, the order will be cancelled. We will not charge your card for shipping unless you approve it in advance. As we cover part of the cost, you may be quite pleased with the quote you receive from us.
Shipping Problems
What happens if my order arrives damaged or not at all? Please take photos of the damage and contact us right away. We will send a free replacement for any damaged rugs or pads. We want you to be happy with exactly what you ordered in excellent condition. It is our policy not to issue a refund. You deserve what you ordered and we deserve to provide it. Naturally, if we cannot provide a replacement we will profusely apologize and issue a prompt refund.
---
Company Questions
---
Where is your company located? We are based in the delightful little New England town of Lenox, MA, and ship from the neighboring town of Pittsfield.
---
Do you have a retail store? Sorry, we don't. Retail stores are very expensive to run and require significant price mark-ups. We only sell online, but we offer swatches at very low prices so you can see and feel our products before deciding to buy.
---
Where are your rugs made? Our rugs are hand-woven in Haryana, India, about two hours north of New Delhi. This is the rug weaving center of India, where the most skilled weavers are found. We have profound respect for their talents.
---
Do you use any child labor and if not, how can you be sure? We do not. All rugs are woven in workshops with multiple looms overseen by dedicated managers who fully understand that employing child labor is both illegal and immoral. This is one of the reasons we don't produce hand-knotted rugs, which are frequently made in homes where oversight is not possible. Our weaving partnerships are important to us, and we're very selective.
---
Do you ever have sales? We price our rugs as low as possible and will never have a site-wide sale. We do have a special section for rugs on sale, for slow sellers and left over sizes.
---
Return Policy
---
What is your return policy? We have a no-hassle 30-day return policy. Its fine to return rugs still in new and unused condition to us within 30 days for any reason. The customer pays for return shipping. We are happy to email a pre-printed return label if that could help. Our returns page explains more.