We offer free Ground shipping

on all rugs to the 48 contiguous states.
Hook & Loom FedEx Shipment Times
Rug orders placed today will ship: Dec 8
All swatch orders ship by noon the following day.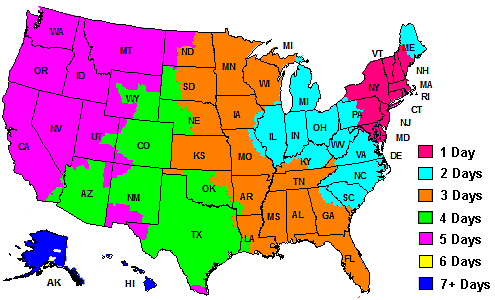 Domestic Shipping
All rugs are shipped FedEx Ground, except flatweave eco cotton 2×3's, 3×5's, 4×6's, and runners, which ship via the US Postal Service, and 9×12, 10×14 and 12×16 Loom Hooked rugs, which ship UPS Freight. We ship swatches free via the USPS. As they are for temporary use only, they are not returnable.
International Shipping
We do not currently ship internationally. If you really like our products and don't mind paying the rather high shipping costs, please send us your address and the items you would want and we will get a shipping quote for you.
Alaska and Hawaii
For orders to Alaska and Hawaii, please feel free to place them on line and we will contact you for approval on shipping cost. If you do not approve the cost, the order will be cancelled. We will not charge your card for shipping unless you approve it in advance. As we cover part of the cost, you may be quite pleased with the quote you receive from us.
Shipping Problems
What happens if my order arrives damaged or not at all? Please take photos of the damage and contact us right away. We will send a free replacement for any damaged rugs or pads. We want you to be happy with exactly what you ordered in excellent condition. It is our policy not to issue a refund. You deserve what you ordered and we deserve to provide it. Naturally, if we cannot provide a replacement we will profusely apologize and issue a prompt refund.