Crossweave Natural Wool Grey/Grey Loom-Hooked Rug
Crossweave Natural Wool Grey/Grey Loom-Hooked Rug
We have a 30-day no-hassle return policy.
Sink your feet in.
We weave our exclusive Loom-Hooked Natural Undyed Wool Rugs on a specialty loom, which means no smelly, unhealthy latex backing found on all other hooked rugs. These rugs are not only delightfully soft, but are safe for sleep and play. Hand-woven in sophisticated earth tones, as provided by nature.
Our Loom-Hooked Natural Wool Rugs are thick, plush, and springy. They're born for bare feet.
Like with all Hook & Loom Rugs, we use NO chemicals or dyes.
We highly recommend the use of our non-skid rug pad to prevent shifting and prolong the life of the rug.
Not Sure Yet? Try a Swatch.
To recreate the look and feel of our rugs, we carefully cut our Loom Hooked Wool swatches to show a full repeat of the pattern. The hand-bound edges of the swatch show the same meticulous quality as the rug. Swatches are for one time use and are not returnable.
Try them out barefoot. We think you'll fall in love.
Each swatch measures approximately 7″x 9″.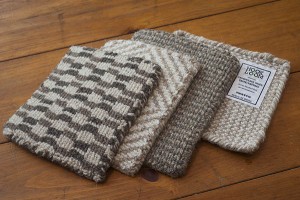 Caring for Loom-Hooked Natural Wool Rugs
Vacuum regularly, using a normal powered home vacuum cleaner without beater bar (revolving cylinder with rows of stiff brushes). Snip off any loose ends or extended loops level with the tops of the loops around them.
Blot liquid spills with clean towel.
Scoop up solids with spatula or dull knife. Clean residue with damp cloth and soap or spot remover if needed. Before using a spot remover, please test it on a back corner of the rug to assure that it doesn't cause discoloration.
This rug cleans well with a steam cleaner. Vacuum thoroughly before steam cleaning. We recommend using an Earth-friendly cleaning solution.